Click HERE to view the optional FAUCETS. Please return to this page and make your selection from the drop down menu.
Fresca FVN6163ES Caro 36 Inch Espresso Modern Bathroom Vanity w/ Mirrored Side Cabinet
This solid wood ensemble is contemporary and chic in design. This vanity offers a touch of sophistication of white counter top contrasted and a white basin against a dark Espresso finish. Comes with a mirror and an additional storage cabinet. Ideal for anyone looking for a simple yet elegant look. Many faucet styles to choose from.
Dimension and Specification: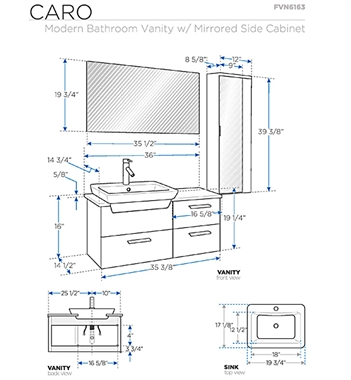 Dimensions of Vanity: 36"W x 14.75"D x 19.25"H
Dimensions of Mirror: 35.5"W x 19.75"H
Dimensions of Side Cabinet: 12"W x 39.38"H x 8.63"D
Dimensions of Sink: 18"x12.5"x5.5"
Sink Color: White
Overflow: Yes
Materials: Solid Oak Wood, Ceramic Sink with Overflow
Soft Closing Drawers
Single Hole Faucet Mount (Faucet Shown In Picture May No Longer Be Available So Please Check Compatible Faucet List)
P-trap, Faucet/Pop-Up Drain and Installation Hardware Included
Optional Accessories:
Espresso Bathroom Linen Cabinet w/ 3 Pull Out Drawers:

FST1002ES

Espresso Bathroom Linen Cabinet w/ 3 Open Shelves:

FST1004ES

Espresso Bathroom Linen Cabinet w/ 3 Tempered Glass Shelves:

FST1008ES

Espresso Bathroom Linen Cabinet w/ Large Mirror Door:

FST1024ES

Espresso Bathroom Linen Cabinet w/ 4 Storage Areas:

FST1040ES
Faucet Selection:
FFT1000BN - Cascata Waterfall Single Hole Mount Bathroom Vanity Faucet - Brushed Nickel
FFT1000CH - Cascata Waterfall Single Hole Mount Bathroom Vanity Faucet - Chrome
FFT1022CH - Tinella Single Hole Mount Bathroom Vanity Faucet - Chrome
FFT1030BN - Versa Single Hole Mount Bathroom Vanity Faucet - Brushed Nickel
FFT1030CH - Bevera Single Hole Mount Bathroom Vanity Faucet - Chrome
FFT1040CH - Tartaro Single Hole Mount Bathroom Vanity Faucet - Chrome
FFT1041BN - Sillaro Single Hole Mount Bathroom Vanity Faucet - Brushed Nickel
FFT1046BN - Savio Single Hole Mount Bathroom Vanity Faucet - Brushed Nickel
FFT1051CH - Orba Single Hole Mount Bathroom Vanity Faucet - Chrome
FFT1053CH - Isarus Single Hole Mount Bathroom Vanity Faucet - Chrome
FFT3071CH - Fortore Single Hole Mount Bathroom Vanity Faucet - Chrome
FFT3111CH - Livenza Single Hole Mount Bathroom Vanity Faucet - Chrome
FFT3811CH - Diveria Single Hole Mount Bathroom Vanity Faucet - Chrome
FFT9161CH - Fiora Single Hole Mount Bathroom Vanity Faucet - Chrome
Item #: FVN6163ES
Manufacturer: Fresca
Condition: New