Click HERE to view the optional FAUCETS. Please return to this page and make your selection from the drop down menu.
Fresca FVN8030GW Livello 29.38 Inch Walnut Modern Bathroom Vanity w/ Medicine Cabinet
The Livello 30" vanity features four pull out drawers that come equipped with slow closing hinges. Its sink is made with a durable acrylic material that is less likely to break then tradition ceramic, it also cleans better. This vanity's minimal design will make your bathroom feel like a modern oasis. Many faucet styles to choose from. Optional side cabinets are available.
TECHNICAL SPECIFICATIONS: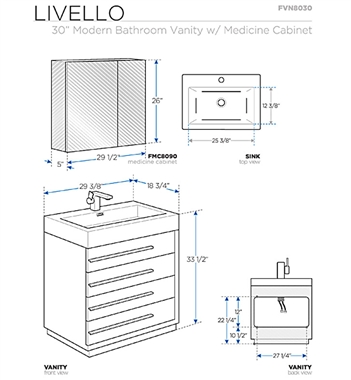 Dimensions of Vanity: 29.38"W x 18.75"D x 33.5"H
Dimensions of Medicine Cabinet: 29.5"W x 26"H x 5"D
Sink Dimensions: 25.38"x12.38"x3.75"
Sink Color: White
Overflow: Yes
Materials: MDF with Acrylic Countertop/Sink with Overflow
Soft Closing Drawers
Single Hole Faucet Mount (Many Faucet Styles To Choose From)
P-trap, Faucet/Pop-Up Drain and Installation Hardware Included
VANITY AVAILABLE IN: Black (FVN8030BW), Walnut (FVN8030GW), Gray Oak (FVN8030GO), or Teak (FVN8030TK)

OPTIONAL ACCESSORIES:
Walnut Bathroom Linen Cabinet w/ 4 Cubby Holes & Mirror: FST8070GW
Walnut Bathroom Linen Cabinet w/ 3 Large Storage Areas: FST8090GW
Walnut Bathroom Linen Side Cabinet w/ 2 Storage Areas: FST8091GW
Walnut Bathroom Linen Side Cabinet w/ 2 Open Storage Areas: FST8092GW
FAUCET SELECTION **SEE MORE IMAGES TAB**
FFT1000BN - Cascata Waterfall Single Hole Mount Bathroom Vanity Faucet - Brushed Nickel
FFT1000CH - Cascata Waterfall Single Hole Mount Bathroom Vanity Faucet - Chrome
FFT1022CH - Tinella Single Hole Mount Bathroom Vanity Faucet - Chrome
FFT1030BN - Versa Single Hole Mount Bathroom Vanity Faucet - Brushed Nickel
FFT1030CH - Bevera Single Hole Mount Bathroom Vanity Faucet - Chrome
FFT1040CH - Tartaro Single Hole Mount Bathroom Vanity Faucet - Chrome
FFT1041BN - Sillaro Single Hole Mount Bathroom Vanity Faucet - Brushed Nickel
FFT1046BN - Savio Single Hole Mount Bathroom Vanity Faucet - Brushed Nickel
FFT1051CH - Orba Single Hole Mount Bathroom Vanity Faucet - Chrome
FFT1053CH - Isarus Single Hole Mount Bathroom Vanity Faucet - Chrome
FFT3071CH - Fortore Single Hole Mount Bathroom Vanity Faucet - Chrome
FFT3111CH - Livenza Single Hole Mount Bathroom Vanity Faucet - Chrome
FFT3811CH - Diveria Single Hole Mount Bathroom Vanity Faucet - Chrome
FFT9161CH - Fiora Single Hole Mount Bathroom Vanity Faucet - Chrome
Item #: FVN8030GW
Manufacturer: Fresca
Condition: New