Click HERE to view the optional FAUCETS. Please return to this page and make your selection from the drop down menu.
Fresca FVN8130WG Allier 29.5 Inch Wenge Brown Modern Bathroom Vanity w/ Mirror
The Fresca 30" Allier is a sleek, modern free standing vanity with plenty of storage space. This model is accented nicely with a matching mirror with small shelf. Optional side cabinets are available. Many faucet styles to choose from.
Dimension and Specification: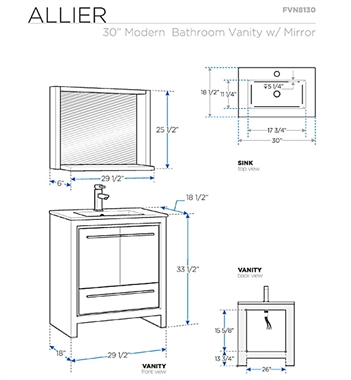 Dimensions of Vanity: 29.5"W x 18.5"D x 33.5"H
Dimensions of Mirror: 29.5"W x 25.5"H x 6"D
Dimensions of Sink: 17.75" x 11.25" x 5.25"
Sink Color: White
Overflow: Yes

Material: Plywood w/ Veneer, Ceramic Countertop/Sink with Overflow

Single Hole Faucet Mount (Faucet Shown In Picture May No Longer Be Available So Please Check Compatible Faucet List)
P-trap, Faucet, Pop-Up Drain and Installation Hardware Included
Available in Gray Oak or Wenge Brown
Optional Accessories:
Wenge Brown Bathroom Linen Side Cabinet w/ 2 Doors: FST8130WG
Wenge Brown Bathroom Linen Side Cabinet w/ 2 Doors: FST8140WG
Faucet Selection:
FFT1000BN - Cascata Waterfall Single Hole Mount Bathroom Vanity Faucet - Brushed Nickel
FFT1000CH - Cascata Waterfall Single Hole Mount Bathroom Vanity Faucet - Chrome
FFT1022CH - Tinella Single Hole Mount Bathroom Vanity Faucet - Chrome
FFT1030BN - Versa Single Hole Mount Bathroom Vanity Faucet - Brushed Nickel
FFT1030CH - Bevera Single Hole Mount Bathroom Vanity Faucet - Chrome
FFT1040CH - Tartaro Single Hole Mount Bathroom Vanity Faucet - Chrome
FFT1041BN - Sillaro Single Hole Mount Bathroom Vanity Faucet - Brushed Nickel
FFT1046BN - Savio Single Hole Mount Bathroom Vanity Faucet - Brushed Nickel
FFT1051CH - Orba Single Hole Mount Bathroom Vanity Faucet - Chrome
FFT1053CH - Isarus Single Hole Mount Bathroom Vanity Faucet - Chrome
FFT3071CH - Fortore Single Hole Mount Bathroom Vanity Faucet - Chrome
FFT3111CH - Livenza Single Hole Mount Bathroom Vanity Faucet - Chrome
FFT3811CH - Diveria Single Hole Mount Bathroom Vanity Faucet - Chrome
FFT9161CH - Fiora Single Hole Mount Bathroom Vanity Faucet - Chrome
Item #: FVN8130WG
Manufacturer: Fresca
Condition: New