Click HERE to view the optional FAUCETS. Please return to this page and make your selection from the drop down menu.
Fresca FVN8114WH Cielo 23.5 Inch White Modern Bathroom Vanity w/ Mirror
The Fresca Cielo is one of the most compact vanities around. This 24" wall hung model comes with a ceramic sink and matching mirror. Even small towel bars are attached to both sides of the vanity. Many faucet models are available.
Dimension and Specification: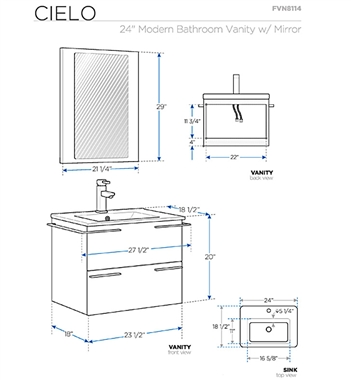 Dimensions of Vanity: 23.5"W x 18.5"D x 20"H
Dimensions of Mirror: 21.25"W x 29"H
Dimensions of Sink: 16.63" x 11" x 5.25"
Sink Color: White
Materials: Plywood w/ Veneer, Ceramic Countertop/Sink with Overflow
Single Hole Faucet Mount (Faucet Shown In Picture May No Longer Be Available So Please Check Compatible Faucet List)
P-trap, Faucet, Pop-Up Drain and Installation Hardware Included
Available in Wenge Brown or White
Optional Accessories:
White Bathroom Linen Side Cabinet w/ 2 Storage Areas:

FST8091WH
Faucet Selection:
FFT1000BN - Cascata Waterfall Single Hole Mount Bathroom Vanity Faucet - Brushed Nickel
FFT1000CH - Cascata Waterfall Single Hole Mount Bathroom Vanity Faucet - Chrome
FFT1022CH - Tinella Single Hole Mount Bathroom Vanity Faucet - Chrome
FFT1030BN - Versa Single Hole Mount Bathroom Vanity Faucet - Brushed Nickel
FFT1030CH - Bevera Single Hole Mount Bathroom Vanity Faucet - Chrome
FFT1040CH - Tartaro Single Hole Mount Bathroom Vanity Faucet - Chrome
FFT1041BN - Sillaro Single Hole Mount Bathroom Vanity Faucet - Brushed Nickel
FFT1046BN - Savio Single Hole Mount Bathroom Vanity Faucet - Brushed Nickel
FFT1051CH - Orba Single Hole Mount Bathroom Vanity Faucet - Chrome
FFT1053CH - Isarus Single Hole Mount Bathroom Vanity Faucet - Chrome
FFT3071CH - Fortore Single Hole Mount Bathroom Vanity Faucet - Chrome
FFT3111CH - Livenza Single Hole Mount Bathroom Vanity Faucet - Chrome
FFT3811CH - Diveria Single Hole Mount Bathroom Vanity Faucet - Chrome
FFT9161CH - Fiora Single Hole Mount Bathroom Vanity Faucet - Chrome
Item #: FVN8114WH
Manufacturer: Fresca
Condition: New